About This Course
Enrollment is open now!
Wheaton College Graduate School and Global Leadership Summit are excited to partner together to deepen your academic experience around the topic of communication and leadership. By successfully passing all of the requirements for this course, you will earn a Global Leadership Certificate issued by Global Leadership Summit and endorsed by Wheaton College (see below for more information).
This course will expose students to the dynamics of communication in relation to leadership in contemporary contexts. In particular, communication concepts and best-practice will be applied to the tasks of leadership such as communicating vision, leading teams, intercepting entropy, and other challenges of organizational leadership.
We are thrilled that you are considering taking a step to deepen your Global Leadership Summit engagement through this Communication and Leadership course. Please be aware that this is an accelerated course that will finish on September 30, 2020. In addition to viewing and interacting with the Global Leadership Summit sessions, this course will include additional video presentations and interactions, course readings (three books and four articles), textbook interactions, and three writing assignments. The course is non-refundable and assignment deadlines are firm (with no extensions being granted) so, before you sign up, please be sure to read through the course syllabus to makes sure you are aware of the certificate requirements. We hope you will join us in this exciting and challenging next step of enhancing your leadership.
Learning Outcomes
By the end of this course, students will become academically skilled and spiritually grounded so that they will be able to:
Articulate a personal philosophy of communication for leadership and influence
Critically assess and evaluate leadership communication methods
Craft and deliver an inspirational and structurally sound message
Create a plan for steadily improving the personal quality of communication
Identify ways communication can be used for both altruistic and selfish ends
Assess personal communication abilities and areas for growth
Syllabus and Course Schedule
At the conclusion of this course successful students will be better able to lead. They will demonstrate ability to examine leadership styles and adopt effective leadership communication.
Course Format and Dates
Communication and Leadership is an accelerated hybrid course. This means that lecture time will be a combination of "face-to-face" time (through attendance at all sessions of the two-day Global Leadership Summit) and "online" time (through online video lectures). Global Leadership Summit participation can be done at Willow Creek in Barrington, at one of the host sites, or through live stream. The rest of your course will take place online through WheatonX.
As an accelerated course, the entire class will take place over the course of 7 weeks (Aug 6-Sept 30, 2019). You can roughly assume that you will need to invest a total of 75 hours into this course (for lectures/Summit participation, readings, and writing), or 8-10 hours a week.
Registration and Cost
Register for WheatonX above by clicking 'Register Now' and fully completing the form. Then, return to this page and you can enroll in this course. The cost for this certificate is $300 (USD) for participants from the United States and Canada. International participants may qualify for a discounted rate. Please email gls@wheaton.edu to request a coupon code for a discounted rate if you qualify as an international participant.
Earning the Global Leadership Certificate
The Global Leadership Certificate is issued by The Global Leadership Summit and endorsed by Wheaton College. In order to receive the certificate, students must attend both days of the Global Leadership Summit on August 6-7, 2019 (in person, through a host site, or through live streaming), watch additional video lectures on WheatonX, and successfully complete all assigned readings and assignments by Sept 30, 2019. The course will be graded as "Pass/Fail" with a pass equating to a "master's level B or higher." Note: students must be able to effectively communicate and write in English.
As a Global Leadership Summit certificate, this course does not earn you graduate credits that will show up on a Wheaton transcript. Your certificate is proof of your completion. As a Wheaton College endorsed certificate, you can be ensured that your class meets all of the rigor of a master's level course. While other institutions may or may not grant you credit for this course, students who successfully pass the Global Leadership Summit Course and are admitted into Wheaton College Graduate School may receive 2 hours of course credit toward tiered learning opportunities that could culminate in a Master of Arts degree from Wheaton College. Click here to learn more.
Why pursue this certificate?
First, this course will help you deepen your summit experience by joining with other leaders to develop skills around communication and leadership.
Second, many organizations encourage their staff to demonstrate professional growth through continuing education. Upon completion of this course, you will earn a formal certificate from the Global Leadership Summit in "Communication and Leadership."
Finally, this is an opportunity to be on the ground floor of exciting innovations at Wheaton College organized around tiered learning opportunities that could culminate in a Master of Arts degree from Wheaton College.
Most additional questions can be answered by reading this document: FAQs
If you have any further questions, please email gls@wheaton.edu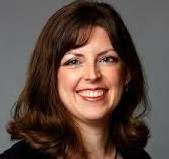 Dr. Rochelle Scheuermann
Associate Professor of Leadership, Wheaton College